PCR Fluorescence Sensor Evaluation Kit
As point-of-care (POC) molecular diagnostics transforms medicine by bringing sophisticated diagnostic testing to the patient, the need for compact optical and detection technologies is increasing. Highly integrated multispectral sensors fill this niche well, reducing the complexity, footprint, and cost of OEM instrumentation significantly. In contrast to the full spectrum acquired by a spectrometer, a multispectral sensor collects data only at the wavelength bands of most interest to the application. By integrating filtering and detection into monolithic elements in an array of up to 8 channels, the breakthrough
PixelSensor™ multispectral sensor from PIXELTEQ is poised to offer even greater multispectral detection efficiency in a package the size of a fingernail.
PIXELTEQ's PCR Sensor is a ready-to-use compact sensor specifically tailored for detecting common fluorescence in PCR reactions.  In this 9x9mm array we have packed the capability to detect 4 different fluorescence signals simultaneously in one optical path.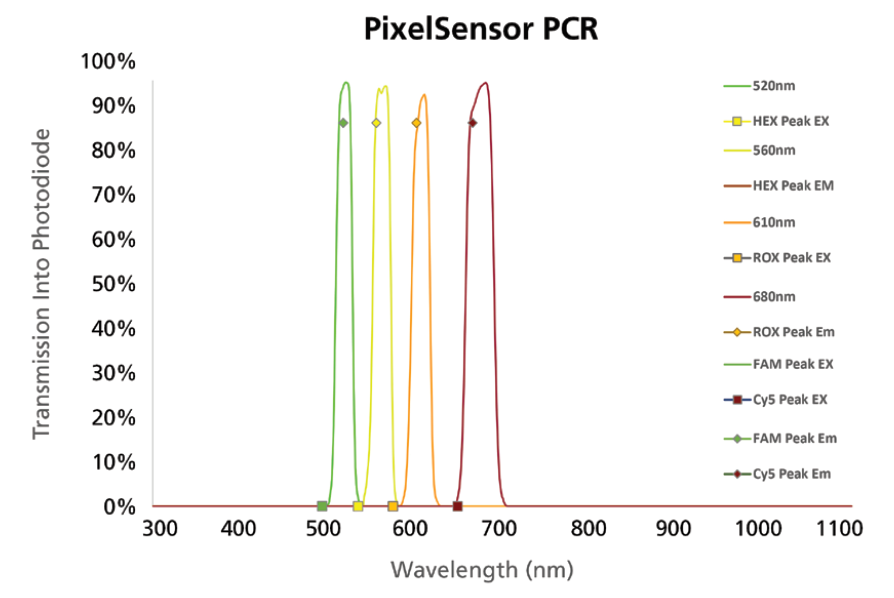 PixelSensor™ multispectral sensors use exclusive on-chip filtering to pack up to 8 wavelength-selective photodiodes into a compact 9x9mm array format for simpler and smaller optical devices. One PixelSensor™ replaces multiple components, helping OEMs shrink multi-wavelength instruments for applications including in vitro diagnostics, biochemical assays, and colorimetry applications. The unique, wafer-level optical filters split the spectrum into 4 discrete color bands and suppress out-of-band background light, improving contrast and sensitivity. Customized OEM versions are available with user-defined spectral bands. With narrowband VIS selectivity, the sensor arrays are soldered onto an OEM electronics board.
The OEM electronics board is designed for easy integration into customers' analytical equipment and provides a smaller footprint (45.72×21.34mm) and faster time-to-market than traditional sensor technology, offering a cost-effective solution. The parallel channel design results in no moving parts and faster measurements than discrete optics designs and spectrometers. Designed for low noise and fast response time, the 20-pin LCC package can be surface or socket mounted. The PixelSensor™ OEM electronics board and accessories and simple-to-use software interface provide designers with tools for rapid prototyping and development – to help quickly move your device from concept to scalable production.
Contact us for more information on volume pricing, custom configurations, and purchasing the OEM board as a standalone unit.
The PixelSensor™ Evaluation Kit PCR includes:
4 channel Pixelsensor PCR (2 photodiodes of each wavelength)
ADC electronics with USB interface
PixelSensor Windows User Interface software on memory stick
Optical interface housing
Integrated lightguide
Adapter for SM05 lens
Adapter for fiber to SMA fitting
Fiber to SMA adapter fitting