Get to Know Spectrecology
Its beginnings, its commitment to customers, and its promising future.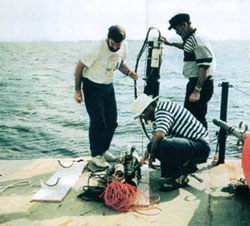 Our History
We were the inventors of the Ocean Optics spectrometer.
The world's first miniature fiber optic spectrometer, when we founded Ocean Optics in 1989, and we have developed over 3,000 miniature fiber optic spectrometers, cuvettes, light sources, fiber optic probes and chemical sensors in the years since. We can design the perfect system that meets your needs and your budget. We have more than 31 years experience in developing applications in the UV-VIS and NIR and now MIR spectral regions, and in developing optical chemical sensors for pH and O2.
We used the spectrometer to measure pH in the deep oceans. Since then our spectrometers have flown in space, landed on MARS, probed the mysteries of our biosphere, monitored crops from AUVs, diagnosed cancer, taught students and helped researchers around the world.
Our Mission & Goals
Becoming the go-to supplier of spectroscopy in all markets.
We want to supply our products, ranging from spectrometers to oxygen systems, with custom-built solutions to all industries and applications. Whether for every day uses on the field or for educational purposes, we aim to offer products that are cost-efficient, high-performance, portable and user-friendly. Additionally, we've developed a rental system that we know will provide a convenient and risk-free experience to the spectroscopy world.
Maintaining an altruistic approach to conducting business
The Spectrometer's initial goal was to innovate a practical analytical device and revolutionize the Marine Biology industry. Spectrecology's aim to push for innovation and facilitate research has and will remain of top priority. By carefully crafting an inventory of advanced yet customizable products, we allow for an infinite amount of possibilities in research. Furthermore, we tailor our services so that we meet your goals budget-wise. Our rental platform has been designed to provide short-term and cost-effective solutions that help directly our customers and indirectly the environment.
It is inspired by our very own story that we hope to provide our clients the potential for developing new products and businesses, for creating new applications that save lives, for protecting property, monitoring and controlling products and pollutants, and providing benefits for societies and people.
Building an inventory of products that goes above and beyond expectations
Providing our customers with the best quality available that meets exactly your needs (and more) is what we strive for. With strategic partnerships with Salvo Technologies' divisions and other manufacturers of cutting edge technology in sensing and imaging or systems, we continually add to our breadth of product the market's most high-performant innovation.
Our Founder
Mike Morris, owner and founder of Spectrecology.
As he explains his beginnings in the industry and shares the steps in his career that lead to the creation of Spectrecology, Mike Morris shares the success he's had and his excitement for the future of technology and Spectrology.